In Memory Of
---
Our founder, Milton Martin passed away Monday, September 14. Anyone who knew him knew his passion for the car business was a passion for taking care of people. His magnetic personality and keen business sense made him a cornerstone of our community and the burgeoning development in Northeast Georgia. We would like to honor his legacy by sharing with you the history of our store.
Milton Martin began in the car industry in 1961 when he purchased a used car dealership in downtown Gainesville. It is there his commitment to the community began as he promised his customers "Satisfaction Guaranteed". A guarantee that ultimately became the backbone of his long-standing, community-oriented, family business.
Then in 1970, during a time imported vehicles were not readily accepted, Milton followed his instinct and purchased the Toyota franchise. Within two years, the dealership was relocated to Browns Bridge Road to accommodate the growth. Now it's the Oldest Toyota Dealership in Georgia.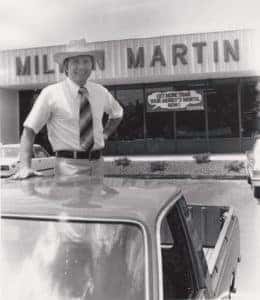 Milton ingrained a strong work ethic and drive to please customers within the family business. Those cornerstones of Milton's success are now continued through his sons and grandchildren. Brothers Mike and Ricky and grandson, Tommy now own and operate the business. Growing up in the business, they were able to see firsthand the necessity of upholding the guarantee to the customer to deliver satisfaction.
While the company was built on the principles of honesty, integrity and customer satisfaction, the Martins further established a standard within the business to secure the future. They recognized that their real purpose was beyond the daily activities of selling cars and providing customer service; it was an opportunity to leave a legacy in their associates and in the community.