Employee Information Regarding COVID-19
March 31, 2020
Please read the information below with valuable employee resources.
Families First Coronavirus Response Act
The links below provide information about sick leave and family leave benefits that was passed in recent legislation due to the Coronavirus pandemic. The poster gives details of the Act and the Employee Guidelines answers frequently asked questions. If you have any questions, please call 1-866-487-9243 to speak with the Department of Labor.
Essential Employee/Business Letter
If you reside in a county or municipality that is currently under a mandatory Shelter-in-Place order. Please contact Jimmy Hernandez to receive a letter to keep in your vehicle notifying authorities that you work for an essential business.
Thank you
---
A Letter from the Owners
March 27, 2020
Good afternoon,
We hope you and your family are continuing to remain in good health. We truly appreciate your hard work and your continued commitment to serving our customers during difficult times.
In the midst of the COVID-19 pandemic which presents both a health threat and economic concern we as owners of Milton Martin Toyota, want to take a moment to encourage you personally. We know the uncertainty of our economy and our day-to-day life can cause feelings of anxiety, worry and fear. While we cannot predict what will happen in the days ahead, our personal certainty in this life and through difficult times is built on our faith in God.
To give hope and speak peace in the face of these circumstances, we wanted to share with you a message about choosing Faith over Fear that was given on the National Day of Prayer that President Trump called on March 15th.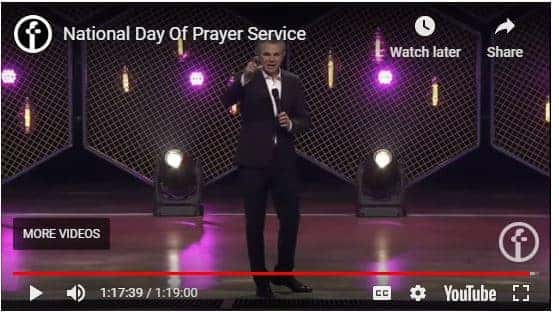 National Day of Prayer Message
We also want to assure you that during this unprecedented time in life that we as owners will continue to pray for your family and will do all we can to be there for you. Akio Toyoda, President of Toyota Motor Corp, shared a message yesterday with dealers assuring us of the health and strength of Toyota and we want to echo that to you. Challenging days may still be ahead for us but we are certain that similar to challenges faced by our company in the past that we will continue to grow, learn and become stronger than ever before. Aiko said, "Remember that this too shall pass and never forget that together there is nothing that we cannot overcome." We would like to add to that there is nothing we cannot overcome when we place faith in something greater than ourselves…we when place our faith, hope and future in God.
We are here if you need counsel or prayer in the days ahead and encourage you to lean on the support of your managers as well. They have all weathered difficult circumstances in our business in the past and will be steady guidance for you. Continue to serve our customers with a spirit of excellence and stay encouraged about better days ahead.
We will get through this together.
Ricky, Mike and Tommy
---
March 17, 2020
To Our Valued Team Members:
As news continues to develop in our local community regarding COVID-19, we as owners want to share with our team some important information.
Daily Business Operation

Stay Healthy: If you personally feel unwell or come in contact with someone who has been exposed to or has symptoms of COVID-19, please call your manager before coming to work.
Business Hours: Our Service Department will continue to operate at regular business hours while our Sales Department will be closing at 6:30 pm unless otherwise needed.
Work Schedules: Based on the staffing need within each department, managers may adjust work schedules to help us protect the health and minimize the exposure of our employees.
Here to Serve: We will continue to serve our customers with the highest level of service possible. We will follow the instruction of our Federal and State officials regarding business operation and will stay in communication with you should anything change.
What We Are Doing
Planning Ahead: We are meeting daily to discuss our plans as new information is released to determine how best to minimize the impact for our employees and our business.
Remaining Positive: Our business has faced many challenges in our 59 years of operation. While this is a setback to what we expected for 2020, we believe that we will emerge from this a stronger team as we have in times past.
Praying for You: As owners, our faith in God is our foundation. During times of certainty and uncertainty in our business, we look to His Word for guidance and pray for direction in all the decisions we make. We are daily praying for you and your family's health, protection and peace during this time.
We are here working for you and standing with you. Thank you for all you do for the customers we serve.
Tommy, Mike and Ricky Martin