Conquer the Road in a Custom Toyota Truck from Milton Martin Toyota in Gainesville, GA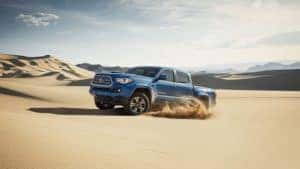 Are you looking for a reliable, versatile truck that can handle the demand of your daily lifestyle? If so, then look no further than Milton Martin Toyota for the answer to your truck needs. Not all trucks are created equal, and at Milton Martin Toyota, we understand that sometimes a truck needs a few extra modifications and accessories to help you get the job done right. Conveniently located at 3150 Milton Martin Toyota Way, Gainesville, GA, the dedicated sales team and parts department at Milton Martin Toyota proudly serves the communities of Gainesville, Cornelia, Braselton, and Northeast Georgia by providing our customers with a multitude of custom Toyota truck configurations at affordable prices. If you're looking for the right Toyota truck to help you tackle that next project or withstand the punishment of your adventurous side, give our skilled sales team a call at (770) 532-4355 to see just how much you can save when you build your dream truck with Milton Martin Toyota today!

Custom Toyota Trucks from Milton Martin Toyota
Toyota makes trucks that are both highly capable and versatile machines, ready to take you just about anywhere and haul just about anything. But the thing about selecting a truck that is up for the challenge of handling the tasks involved in your lifestyle is that only one element can make it truly perfect for you-and that element is you. You see, it only makes sense that when a company like Toyota manufactures a truck like the Tacoma or the Tundra, the vehicle isn't just a machine, it's an open-ended question, and you are the answer to that question. The mechanical capability of the truck asks what you plan to do with it in earnest, and waits for your reply. At Milton Martin Toyota, we understand that the reply to that question is not always so simple and that sometimes a truck may need more than what the manufacturer created to get the job done and make it your own. For this reason, we offer our full inventory of parts and accessories, as well as our factory-trained technicians to help you build your Toyota truck to your exact specifications because we know that when it comes to finding the right truck for the job, there can be no compromises. Whether it's lift kits, roof racks, bed-liners, suspension upgrades, trail lights, winches, towing packages, tire upgrades, you name it- we've got it or can get it for you. Come by Milton Martin Toyota today to see which custom truck works for you!