How to Use Our Collision Center Free Online Estimate Tool
Our team at Milton Martin Toyota is excited to share about our free online estimate tool. If you cannot stop by our collision center in Gainesville during our normal business hours, you can begin your estimate from your phone or computer before bringing your vehicle in.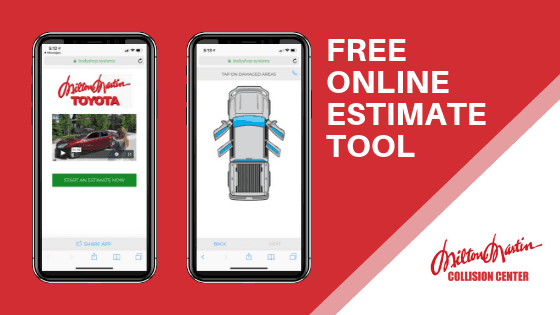 Here's the simple step-by-step process of how to use the free online estimate tool.
1. Enter the year, make, and model of your vehicle.
2. Tap on the damaged panels.
3. Take photos.
You'll take the first photo from straight on. Next, you'll be taking photos from a side angle. This will give us a better perspective of the damage. Repeat steps two and three as needed, depending on the extent of the damage. Tap more panels, and add more photos.
4. Take a few steps back, and take photos from a distance.
This will help us to know how the damage is affecting the surrounding areas.
5. Take photos of damaged parts.
6. Take a photo of the VIN number of your vehicle.
The VIN number gives us all the unique information about your particular vehicle. All of this information is kept private and secure. If you don't know how to locate your VIN number, there's a video within the tool that you can watch that shows you where to locate your VIN number.
7. Write in damage notes.
In this step, you can review your photos and leave any notes about the damage, such as how the accident happened, and you can list any broken parts.
8. Enter your contact information.
When you're done and submit your information, all of your data will be uploaded for our estimating team to review. We will assess the damage by looking at it under X-ray filters. We'll then be able to provide you with sound advice about the cost and repair process.
Give our free online estimate tool a try today! This tool will show you how to capture all the information we need to prepare an estimate for you. You can also schedule an appointment for a free in-person estimate. At our Milton Martin Collision Center, you decide where to repair your vehicle, no appointment is necessary, and we offer after-hours appointments. Once you receive your estimate, call or visit our Collision Center to get started on repairing your vehicle.